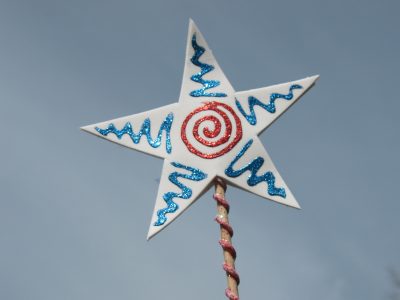 Red, White and Blue Star Wand
Kids will love decorating and creating this fun wand for the 4th of July. What a great way to show your patriotic spirit! This project requires quite a bit of drying time, so be sure to plan accordingly.
What You Need
12" wooden dowel
white yarn
white craft glue
white craft foam
red, white and blue glitter glue
5 paper clips
5 scraps of felt or paper towels
paper plate
scissors
small paintbrush
How To Make It
Cover the dowel in white glue, spread it evenly with your fingers. You want a fairly heavy coat, but you don't want it dripping. Wrap the white yarn around the dowel and spiral all the way down to the end. Rest the wrapped dowel on a paper plate to dry.
Cut out 2 stars from white craft foam.
When dowel is dry, trim the ends of the yarn. Line the stars with white glue, then sandwich one end of the dowel in between the two foam stars. Place a scrap of felt or paper towel over each of the star's points, securing with paper clips. This will hold the star closed so it can dry.
Stand the star wand up, star end pointing down, and insert a generous amount of white glue. Let dry completely.
When everything is dry, use a small paintbrush to add red glitter glue to the yarn. Use a paintbrush to add white glitter glue to the dowel between the yarn spirals.
Decorate the star using blue and red glitter glue.
Place star wand in a safe place over night to dry.
This project was created by Amanda Formaro, originally for Kaboose/Spoonful.