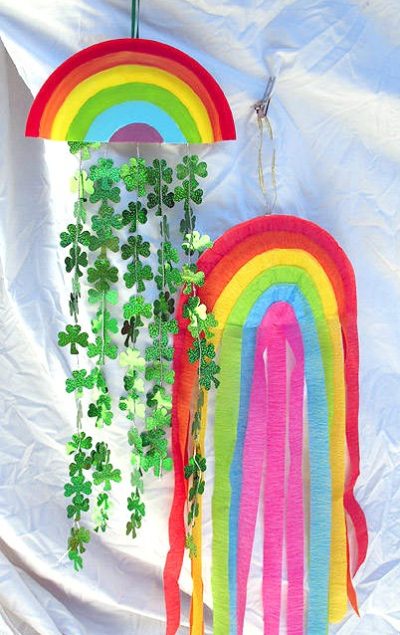 Rainbow Mobile
Decorate for St. Patrick's Day by hanging these lucky rainbow mobiles around the house. This is an easy paper plate craft for preschoolers and kindergarteners to make.
What you'll need:
1 paper plate
Paper streamers or wide ribbon in rainbow colors (red, orange, yellow, green, blue and purple)
Scissors
White craft glue
Piece of ribbon for hanging
Shamrock garland OR cut your own shamrocks from green construction paper
How to make it:
Cut the paper plate in half.
Cut a 40-inch length of streamer in each color.
Cut each length up the middle to create two long strips of each color.
Use one strip of each color for each half of the paper plate. Glue the red streamer strip around the top curve of the paper plate. Make sure to center the streamer so you have equal lengths hanging off each side.
Repeat with each color, moving your way down from red to orange, then yellow, green, blue and purple. Do this for both halves of the paper plate to make two mobiles.
To complete the shamrock mobile, trim the dangling streamers and attach the shamrock garland.
To complete the rainbow mobile, add one more thin purple strip to the back of the plate to fill the gap in the center.
Tie ribbon into a knot, then glue to the back of the plate to use as a hanger.
Helpful Tip:
If you don't want to buy streamers in every color, just use white streamers painted with rainbow colors!
This project was created by Amanda Formaro, originally for Kaboose/Spoonful.