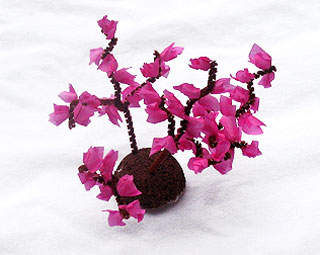 Plum Blossom Tree
Make this pretty plum blossom tree craft to celebrate the coming spring. Plum blossoms are considered a symbol of courage, hope, and new beginnings.
What You Need:
Styrofoam ball, cut in half
Brown paint
Tissue paper (pink and/or white)
Brown pipe cleaners
White glue
How to Make It:
Paint the styrofoam ball brown, then set it aside to dry.
Twist two pipe cleaners together at their centers, then bend the ends outward to make a stem and three branches. Repeat the process to make a total of three stems.
Lay the branches flat on the table and dot the branches with white glue. Do not put glue on the stems.
Scrunch small pink and white tissue paper squares and then glue them to the branches, leaving some spaces between the flowers.
When the glue is dry, insert the branches into the painted foam base.
This project was created by Amanda Formaro, originally for Kaboose/Spoonful.