Happy November! We've gathered up over 40 of the best Pilgrim crafts for kids. You'll find all sorts of pilgrim-themed crafts for preschool-age kids and beyond. There's a great mix of edible projects, crafts using recycled materials and so much more.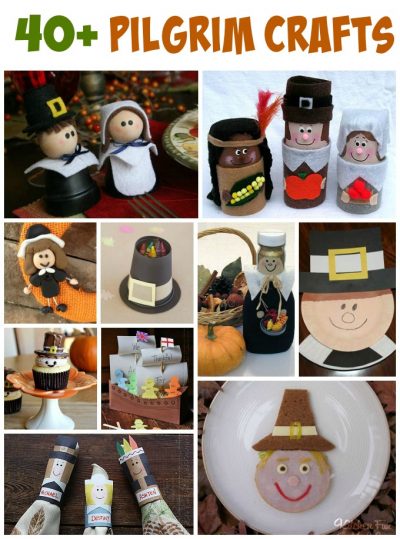 Pilgrim Crafts for Kids
Here are ten of our favorite Pilgrim crafts for kids. There's something for everyone! You can see all 40+ crafts, activities and recipes here.
1. Pilgrim Lunch – This healthy lunch is easy enough for the kids to make themselves. It also makes a great snack before the big Thanksgiving meal.
2. Clay Pilgrim Girl –  Create a darling little pilgrim girl from clay. Use it on a wreath, to hold a place card or as part of a Thanksgiving centerpiece.
3. Pilgrim Hat Crayon Holder – Turn construction paper and a paper cup into a fun crayon holder for your Thanksgiving table. Have each child make their own as a pre-dinner project.
4. Waste Not Pilgrim – This whimsical pilgrim woman is made from an empty condiment bottle, paint, a little felt, and lots of imagination. What a fun project to make from something that would otherwise be discarded.
5. Paper Plate Pilgrim – Turn paper plates into a cute Pilgrim boy and girl. Add sticks to turn them into puppets or cut eye holes to make Pilgrim masks!
6. Thanksgiving Napkin Ring Placecards – Cardboard tubes and construction paper become cute napkin ring place cards that are perfect for the Thanksgiving table. This is a great activity to keep the kids occupied before the big meal.
7. Cereal Box Mayflower – Recycle an empty cereal box into the Mayflower. Have each family member write what they are thankful for on a Pilgrim boy or girl and then insert them into the ship to make a centerpiece that is not only cute, but meaningful.
8. Pilgrim Cupcakes – These Pilgrim cupcakes are fun and full of personality. They're not too difficult to make and taste great.
9. Cardboard Tube Pilgrims and Indians – Don't throw out those empty cardboard tubes! Use them to make the people at the first Thanksgiving feast.
10. Clay Pot Pilgrims – This Pilgrim couple starts with inverted clay pots. From there, add felt and ribbon and a few other items. These would make fantastic place cards for Thanksgiving guests.
Be sure to check out all the Pilgrim crafts here!