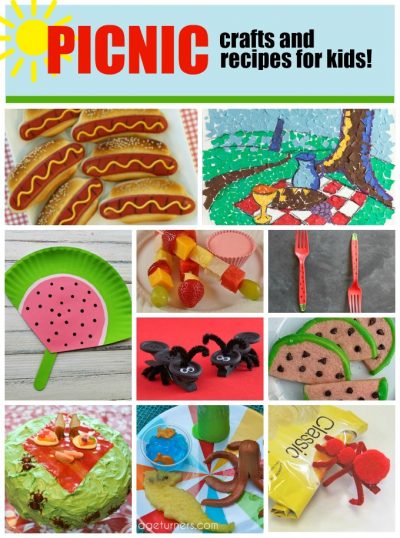 It's summer and families everywhere are enjoying barbecues and picnics. International Picnic Day falls on June 18th and then July is National Picnic Month! There's no better time for fun picnic crafts and recipes to make and enjoy with the kids. Below are 10 of our favorites.
Picnic Crafts and Recipes
1. Pom Pom Ant Chip Clip – This is one ant you won't mind bringing along on a picnic! It's so cute and keeps the chips fresh.
2. Impressionist Picnic Mosaic – Make a construction paper picnic mosaic inspired by Impressionist painter Paul Cezanne.
3. Picnic Cake – This cute cake is such a fun dessert for either a picnic or a picnic-themed party!
4. Paper Plate Watermelon Fan – Keep cool during your picnic with a homemade fan that looks like a wedge of tasty watermelon.
5. Ant Tablecloth Clips – Secure your picnic blanket or tablecloth with these ant clips that are as functional as they are adorable.
6. Watermelon Forks – These clever utensils are such a fun addition to a picnic. They couldn't be easier!
7. Summer Fruit Kabobs – Make these healthy kabobs with your favorite summer fruits and enjoy them during a picnic.
8. Watermelon Cookies – Watermelon and cookies are picnic staples. Check both off your list with this tasty recipe!
9. Mermaid Picnic – Imagine what a mermaid would enjoy on a picnic. This post gives you lots of fun ideas.
10. Hot Dog Cookies – They look just like hot dogs, but these tasty cookies are actually dessert! They're so much fun on a picnic!
Be sure to check out all of the fun picnic crafts and recipes to make and enjoy with the kids!