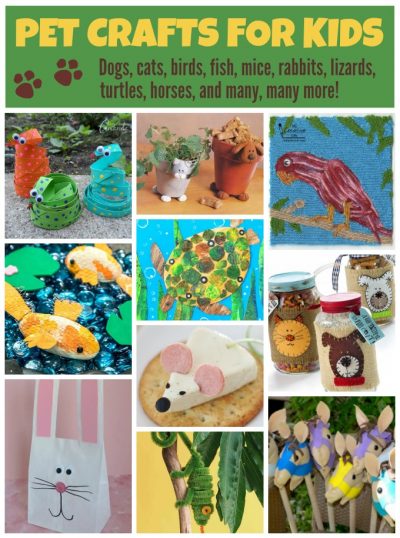 April 11 is National Pet Day. Have some fun with it and create a craft project inspired by a pet, or to give to your pet! We have cats, dogs, rabbits, mice, fish, birds, horses, turtles, chameleons, snakes, and so much more. Below are 10 of our very favorites.
Pet Crafts for Kids
1. Cat and Dog Clay Pots – Decorate clay pots to look like your favorite pets. Then add pet-friendly plants and put them on display.
2. Dog and Cat Treat Jars – Keep your beloved pet's treats close at hand with these super cute treat jars. They make great gifts for other pet lovers, too!
3. Paper Bag Bunny – Rabbit lovers will adore this cute project made from a paper bag. Fill it with treats for somebunny special!
4. Cheese Mouse – Make the most adorable little mouse from a wedge of cheese. There are ideas for taking it savory or sweet.
5. Rock Fish Pond – Create a faux fish pond filled with colorful textured fish. They're made from rocks!
6. Parrot Yarn Painting – Use scraps of yarn to 'paint' a portrait of your pet parrot or another favorite bird. It takes time, but it's worth it.
7. Hobby Horse Jousting – Kids will adore these plush hobby horses made from felt. The tutorial includes ideas for ways to use them for party games.
8. Mixed Media Turtle – Use a variety of art techniques to make this stunning turtle project. The results are beautiful.
9. Pipe Cleaner Chameleon – Turn pipe cleaners into the cutest chameleon around. What a fun project!
10. Cardboard Tube Coiled Snakes – By changing out the paint colors, you can create realistic or whimsical snakes using cardboard tubes.
This is only a small sampling of the hundreds of pet crafts and recipes we have for you. If you're looking for cats, dogs, rabbits, mice, fish, birds, horses, turtles, chameleons, or snakes, just click on the link to see all the options. Or, check out the 2000+ animal craft tutorials at Fun Family Crafts!