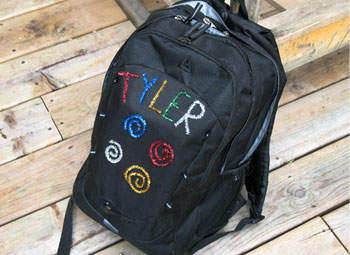 Personalized Backpack
This snazzy, personalized backpack is so easy to create. It's a great way to give last year's backpack a new look!
What You Need
Backpack
Glittery chenille stems in different colors
Instant grab glue
Scissors
Sewing needle and thread (optional, parent step)
How To Make It
Create the letters of your name using chenille stems. Bend and twist, then trim where needed.
Position the letters on the backpack to get a visual. Once you have them where you want them, secure them to the backpack with instant grab glue.
With remaining chenille, wrap pieces around a pen or pencil, then untwist to make swirled shapes. Glue to the backpack.
As a final step, parents can add a few stitches around the ends of each letter to secure them more tightly.
This project was created by Amanda Formaro, originally for Kaboose/Spoonful.