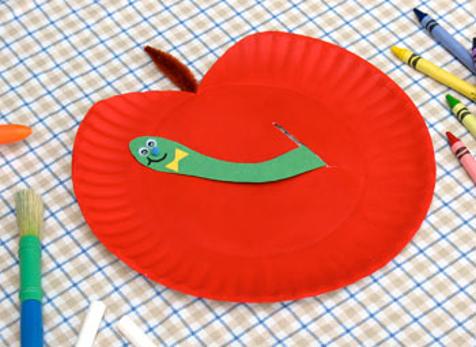 Peekaboo Apple Paper Plate
Kids will love this colorful back-to-school craft. Make a bright red apple with a friendly worm that pokes through to say hello!
What you need:
Paper plate
Craft paint – red and white
Thick brown pipe cleaner
Construction paper – green and yellow
Blue mini pom-pom
Black Sharpie
Scissors
Glue
How to make it:
Cut a small rounded section from one side of the paper plate to shape it like an apple. Carefully cut a 2″ slit where the worm will stick out.
Paint the apple red.
Cut out a worm from green construction paper.
Use the back of a paintbrush to paint two white circles for eyes. Let the paint dry completely.
Glue a pom-pom nose onto the worm.
Use the Sharpie to draw a mouth and the pupils on the eyes.
Cut a bowtie from yellow construction paper and glue it below the worm's mouth.
Slide the worm through the hole in the apple. Add glue behind the worm so that it stays in place.
Glue the pipe cleaner behind the apple to make a stem.
This project was created by Amanda Formaro, originally for Kaboose/Spoonful.