Dried pasta is a classic crafting material, and for good reason! It's inexpensive, kid-friendly, and most of us have it on hand all the time. There are lots of different things you can make using ziti, macaroni, wagon wheels, spaghetti, and more. Below are ten of our favorite pasta and macaroni craft ideas for the kids.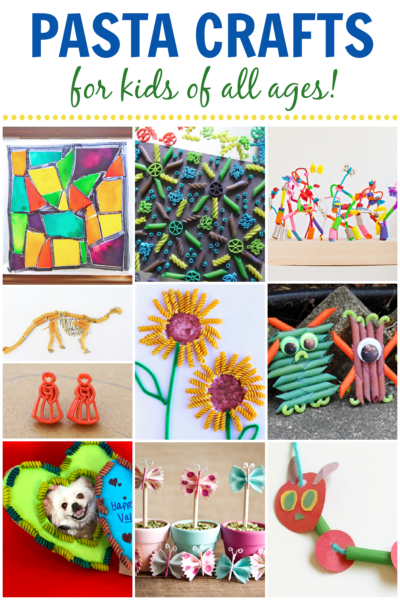 Dried Pasta Crafts for Kids
1. Stained Glass Pasta – No one will believe this beautiful faux stained glass is actually made with pasta! Give it a try and see how easy it is.
2. Colored Pasta Art – Learn how to color pasta and then use it to make beautiful designs. There are endless possibilities!
3. Crazy Pasta Sculpture – Let your creativity run wild as you make a sculpture using different shapes and colors of pasta.
4. Dried Pasta Frames – Use colored pasta to create your own heart-shaped frames. Try rotini or any other shape.
5. Rotini Sunflowers – Create a dimensional sunflower using dried rotini noodles and pipe cleaners.
6. Very Hungry Caterpillar Necklace – Eric Carle fans will love this adorable necklace that gives kids practice with making patterns.
7. Colorful Pasta Monsters – These pasta monsters are much more cute than scary! Try it out and see what you can make.
8. Dinosaur Skeleton – This crafts starts with assembling the printable skeleton, then you glue pasta in place to represent the bones. So clever!
9. Pasta Earrings – Pasta earrings?! Yep! Choose your shape and make a pair in minutes.
10. Bow Tie Butterflies – Craft up a batch of beautiful butterflies using dried farfalle.
Remember, we have a lot more ideas for dried pasta crafts! Be sure to check them out.