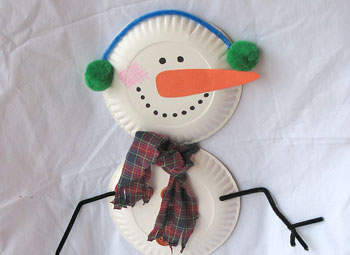 Paper Plate Snowman
Make a jumbo snowman for your front door or a smaller one for your room. Either way you will really enjoy this craft.
What you'll need:
3 paper plates
Orange and black construction paper
2 black chenille stems
1 white chenille stem
Light blue chenille stem
2 large green pom poms
Scrap material for scarf
3 medium sized buttons
Black marker
Pink crayon
White craft glue
Tape
How to make it:
Line the paper plates up like a snowman, one above the other. The plates should be front side down.
Use a pen to poke a hole at the bottom of the top plate, about 1/2" above the lip of the plate. On the second plate, poke two holes, one at the top and one at the bottom, again, about ½" above the lip. On the last plate, poke only one hole at the top.
Cut white chenille stem into thirds. Insert one of those chenille pieces into the hole on the first plate. Take the other end of that chenille piece and poke it through the top hole of the second plate. This will join the two plates together. Twist the ends of the chenille together snugly at the back side of the plates. Use a piece of tape to secure the chenille ends down and cover the holes so that they don't rip. Take another third of the chenille and poke it through the holes at the bottom of the middle plate and the top of the bottom plate. Repeat the twisting and taping process. Save the last third of the chenille stem for a different project.
Cut a long triangle out of orange construction paper for the nose, rounding the edges if you like. Glue to the center of the first paper plate.
Use black marker to draw on eyes and mouth. Use pink crayon to color a cheek.
Cut the blue chenille stem (if needed) to fit around the top of the first paper plate. This will form the band for your snowman's ear muffs. Glue to the plate and then glue the green pom poms at each end for the muffs.
Glue three buttons to the center paper plate.
Cut two simple boots from black construction paper and glue to the bottom plate. Tie a piece of scrap material around the snowman's neck for a scarf.
Notes:
Save old or outgrown boxer shorts for crafts! The plaid material works great for projects like these. If you are uncomfortable with this, save old t-shirts that are not worthy of clothing donation instead.
Save old and mismatched buttons or buy bags at the craft or thrift store.
We used miniature paper plates for our project, however regular sized plates can also be used.
This project was created by Amanda Formaro, originally for Kaboose/Spoonful.