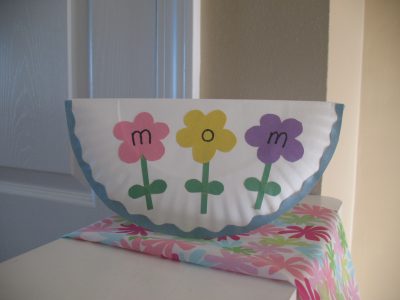 Paper Plate Mother's Day Card
Make a sweet card for Mom out of a simple paper plate and construction paper. She will love it!
What you need:
Paper plate
Construction paper: pink, yellow, purple, green, light blue
Black marker
Pen or pencil
Scissors
Glue stick
How to make it:
Fold paper plate in half. Fold a sheet of light blue construction paper in half and place folded paper plate on to the paper. Trace around the plate and set aside.
Cut a flower from yellow, pink, and purple construction paper. Cut 3 strips of green paper, ½" x 4".
Glue stems and flowers to the folded paper plate. Trim stems.
Use black marker to write "m o m" on the flowers (one letter on each flower).
Take the folded blue paper and draw a curvy line along the curved edge. Cut out the curvy piece, cutting through the folded paper, creating two identical pieces. Run a glue stick along the curved edge of the front of the card, and press one of the blue curvy pieces onto it.
Open the card and run the glue stick along the curved edge of the inside of the card and press the other blue curvy piece on. Let everything dry.
Write a message on the inside of the card for Mom.
This project was created by Amanda Formaro, originally for Kaboose/Spoonful.