Kids love to make paper plate crafts, and we've collected over 300 ideas for them to choose from! So grab a package of paper plates and find weeks worth of projects right here. We've selected ten of our favorites below, but you can browse all 300+ paper plate crafts here.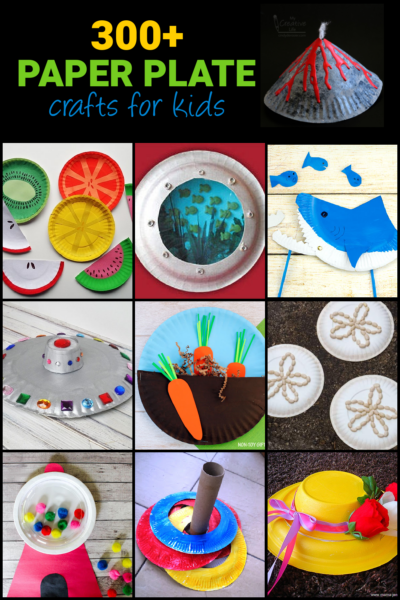 Paper Plate Crafts for Kids
Paper Plate Porthole – What do you see when you look out the porthole of a ship? Use your imagination about what is out there!
Paper Plate Sand Dollars – Turn paper plates into sand dollars! This unique craft is fun and easy.
Spring Hat – Dress up for spring with a hat made with a paper plate.
Paper Plate Fruit – Follow the instructions to make a watermelon, apple, lemon, kiwi, and orange from paper plates.
Paper Plate Gumball Machine – Pom poms take the place of gumballs in this cute craft.
Paper Ring Toss Game – What's better than a toy that you make yourself? All ages can play this ring toss game.
Biting Paper Plate Shark Puppet – These sharks are cool on their own, but the fact that you can make them bite takes them over the top!
Paper Plate UFO – Use your imagination to show what colors and decorations a UFO has!
Paper Plate Volcano – Kids love volcanos! Learn how to turn a paper plate into a model of a volcano.
Carrots in the Garden – This clever craft allows kids to 'plant' and 'pick' carrots from the garden. Great for imaginary play!
See all 300+ paper plate crafts here or check out our other craft collections here.