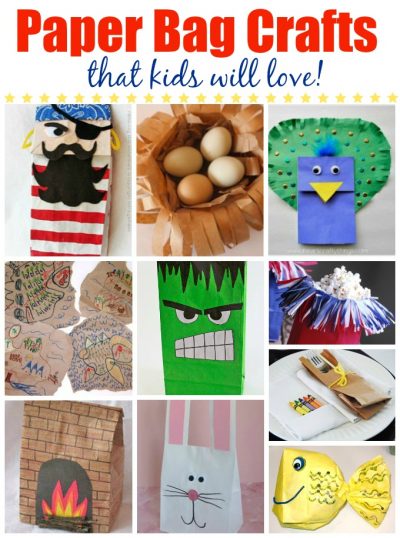 Bet you didn't know there was an official "Paper Bag Day" did you?? Well, there is and it's on July 12th. You don't need a special day to make crafts from paper bags though! We know how much kids like to make cool stuff, so we've collected tons of paper bag crafts here just for you. Below are 10 of our favorites.
Paper Bag Crafts for Kids
1. Paper Bag Pirate – Arrrr! Make this cute paper bag pirate puppet and have your very own puppet show.
2. Paper Bag Peacock – Gather up the simple materials and have fun creating colorful paper bag peacock puppets with the kids!
3. Paper Bag Bird Nest – Turn a paper bag into a cute bird nest to use for decoration or for imaginative play.
4. Paper Bag Pirate Maps – Paper bags make great pirate maps. They're even more fun when there's actually some treasure where X marks the spot!
5. Paper Bag Bunny – Make a cute bunny with a paper bag, construction paper, googly eyes and a button. A cotton ball tail is the perfect finishing touch.
6. Paper Bag Utensil Holder – Prep for a kid-friendly party by creating utensil holders using paper bags.
7. Paper Bag Fish – This easy paper bag craft is fun as a summer camp project. It could also be used as decorations for a fish-themed party.
8. Paper Bag Fireplace – This cute paper bag fireplace makes a great gift bag, especially for some homemade cocoa, marshmallows, or other cool weather treats!
9. The Hulk Party Bag – Avengers fans will love this simple party bag featuring the Hulk. It couldn't be easier!
10. Firecracker Popcorn Bag – Can you believe it takes under a minute to make this festive firecracker-inspired bag? Check it out!
Don't forget to see the rest of the paper bag craft tutorials!