Welcome the Year of the Ox with this fun craft. Add a pin to wear this felt ox, or put a magnet on it and hang it on the fridge.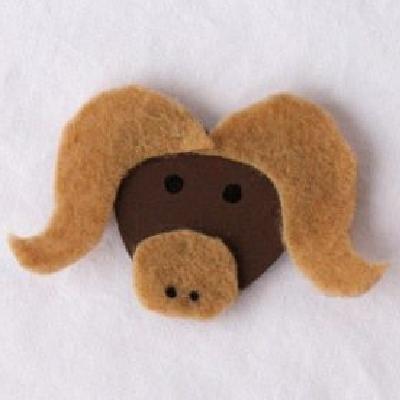 Ox Pin or Magnet
There are 12 animals in the Chinese zodiac and one is the ox. Make this cute ox pin to wear, or put a magnet on it and hang it on the fridge.
What you'll need:
1.5" wooden heart
Tan felt
Brown acrylic paint
Paint brush
Black marker
Scissors
White craft glue
Pin back or magnet
How to make it:
Paint wooden heart with brown paint and set aside to dry.
Cut snout and horns from tan felt using pattern.
Glue horns at the top of the heart and snout to the pointed end of the heart.
Use black marker to draw on eyes and nostrils.
Glue pin back or magnet to the back of the heart.
Helpful Tips:
Pin backs are available at your local craft supply store.
If you don't have any magnets, grab an old business card magnet you don't need any more and cut into pieces.
Play a game with children by having them name the 12 animals of the Chinese zodiac: Rat, Ox, Tiger, Rabbit, Dragon, Snake, Horse, Sheep, Monkey, Rooster, Dog and Pig.
This project was created by Amanda Formaro, originally for Kaboose/Spoonful.