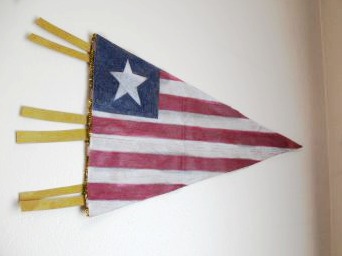 Old Glory Pennant
Use a paper grocery bag to make this patriotic pennant to hang on your wall. This project is very easy to do and inexpensive as well!
What You Need
brown paper grocery bag
ruler
pen or pencil
scissors
crayons: red, white, blue, yellow
2 gold chenille stems
tape
How To Make It
Place brown paper bag flap-side down on the work surface. Use the ruler to draw a line from the top center of the bag to the bottom corner. Draw another line, again from the top center of the bag, this time going to the other bottom corner. The result should be a triangle.
Cut the triangle out. You only want the half of the bag without the folded flap. Cut out 4 notches along the short edge of the triangle to wrap around the chenille stem flagpole. The notches should be about ¾" long.
Next, use a blue crayon to draw the blue corner square of the flag that holds the star. The area should measure roughly 3.5" x 4.5". Use a white crayon to draw a simple star in the center of the blue area. Color the star white and the area around the star blue.
To draw on the flag's stripes, use a ruler to draw notches with a red crayon at one inch intervals. Use the ruler to draw the lines onto the flag. Color your stripes red and white, alternating each color.
To make the flagpole, twist the two chenille stems together to make one thick chenille stem. Turn the flag over and place the chenille stems along the edge of the triangle with the notches. Line it up evenly, then fold the notches over the chenille and tape in place. Bend the ends of the chenille stem in to avoid sharp edges and to give it a neat appearance.
Cut out a 6"x 3" piece from the scraps of the brown bag. Color that piece with the yellow crayon. Cut that into ½"x 6"strips. You should have 6 strips.
With the flag still upside down, tape the strips onto the back of the flag, two at one end, two in the middle, and two at the other end.
Helpful Hints
This project can also be made with markers or colored pencils. Older children may enjoy painting this instead.
Be sure to either save the rest of the paper bag for another project, or place it in the recycle bin and not the garbage can.
Keep crayons on hand for rainy days. Pull out crayons, construction paper and a little glue and let the kids create!
This project was created by Amanda Formaro, originally for Kaboose/Spoonful.