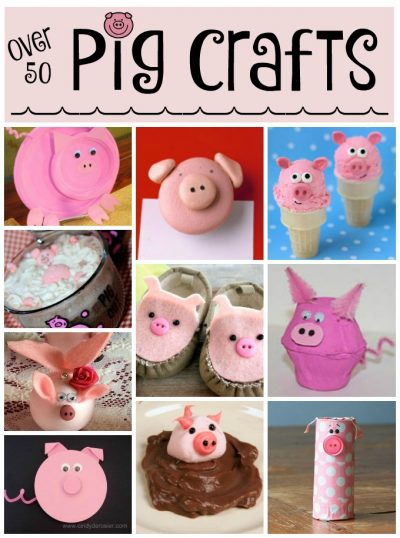 March 1st is National Pig Day! Mostly celebrated in the Midwest, this special day was created in 1972 to give the pig recognition for being "one of man's most intellectual and domesticated animals." Check with your local zoo or even the children's museum to see if they are planning anything fun for the kids! Meanwhile, check out ten of our favorite pig crafts that you can make!
Pig Crafts and Recipes for Kids
1. Pig Ice Cream – These adorable bubble gum ice cream cone pigs are made from an easy four-ingredient ice cream recipe. No machine needed!
2. CD Pig – Turn recyclables and a few basic craft supplies into this cute pig. It's easy and inexpensive to do.
3. Cardboard Tube Polka Dot Pig – This simple craft can be completed in less than 15 minutes. Use it as a finger puppet and put on your own show.
4. Pig Baby Shoes – Cover your baby's little piggies with these darling pig shoes. Goodbye, plain baby shoes!
5. Piggy Hot Cocoa – Have fun pigging out on these fun drinks in pig mugs. This is not your ordinary cup of cocoa.
6. Pig Refrigerator Magnet – Turn flat rocks into a pig magnet for the fridge. It's easy and inexpensive to make this cute and functional project.
7. Piggy in the Mud Snack – This tasty snack is made with marshmallows and pudding. Not only is it as cute as can be, kids will love to make and eat it.
8. Paper Plate Pig – This pig project starts with a pink dinner plate and a pink dessert plate. The finishing touch is his curly pipe cleaner tail.
9. Flying Pig Eggs – Transform blown eggs into flying pigs using the templates directions, or let your imagination run free.
10. Egg Carton Pig – Create your own little piggy with egg carton cups and a few basic craft supplies. What a fun way to use egg cartons that might otherwise be thrown away!
Don't forget to visit Fun Family Crafts to see the rest of the pig craft tutorials. There are over 50 pig-themed crafts and recipes.