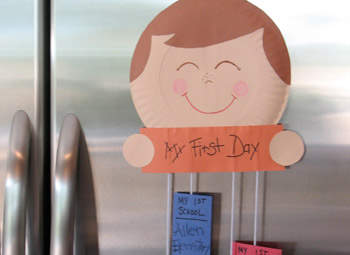 My First Day of School
Capture all the details of your child's first day of school with this adorable craft project.
What you need:
Paper plate
Paint
Construction paper
Crayon
Markers
Yarn
Scissors
Tape
Glue
How to make it:
Paint the paper plate to match the desired skin tone. Use the same paint to color two small circles that will be the hands. Let the paint dry completely.
Cut out hair from construction paper. Encourage the child to match his or her hair color, length, and style. Glue it to the top of the head.
Draw the facial features with markers. Add color to the cheeks with a pink crayon.
Cut a banner from construction paper and write, "My First Day." Glue it across the bottom of the face. Glue the hands on either side of the banner.
Tape lengths of yarn to the back of the plate.
Write down the fun details from the first day of school on rectangles of construction paper. Tape these to the yarn so that they hang at different levels.
This project was created by Amanda Formaro, originally for Kaboose/Spoonful.