Monsters! Who doesn't love them to pieces? Boys, girls, and even grown-ups are gaga for monsters. They are cute, funny, and silly too. Monsters are popular all year long, but they are especially fun for Halloween! We have over 200 monster crafts and recipes that we have collected for you. Below are ten of our favorites.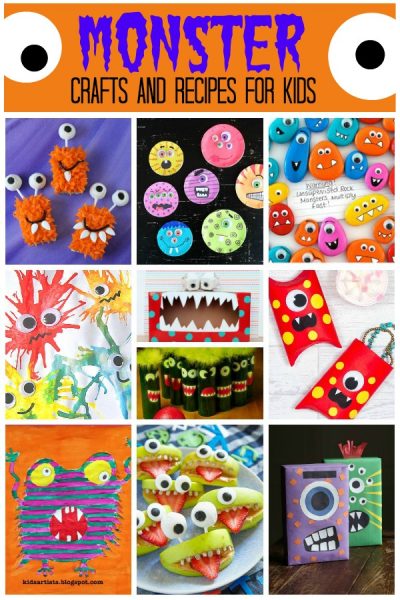 Monster Crafts and Recipes
1. Tissue Box Tattle Monster – This friendly little Tattle Monster is ready to listen and gobble up any tattles young kids want to share.
2. Blow Painting Monsters – Kids of all ages will love to blow paint and turn their creations into monsters. No two are exactly alike!
3. Rice Krispie Treat Monsters – You might not immediately think of "cute" or "delicious" when describing monsters, but these ones certainly are! They'll be the hit of any Halloween party.
4. Glow in the Dark Monster Bowling – Turn empty containers into monsters with this cool, glow-in-the-dark bowling game that's fun for all ages.
5. Happy Monsters – Monsters don't have to be scary! Follow the steps to draw your own big-eyed, happy monster.
6. Monster Gift Box – Transform empty cardboard tubes to make monster gift boxes that are just the right size for small gifts or treats.
8. Green Apple Monsters – These fun little monsters are cute, fun to make, and a healthier alternative to the usual Halloween treats.
9. Rock Monsters – Every rock has the potential to be a little monster. All you need is to add your creativity!
10. Canning Lid Monsters – Save canning lids to turn them into whimsical monsters. Use them as magnets, wearable pins, coasters, or just as decorations.
Be sure to check out the rest of the monster crafts and recipes. We also have Halloween crafts, recipes, printables and costumes (over 1000 of them) waiting for you too!