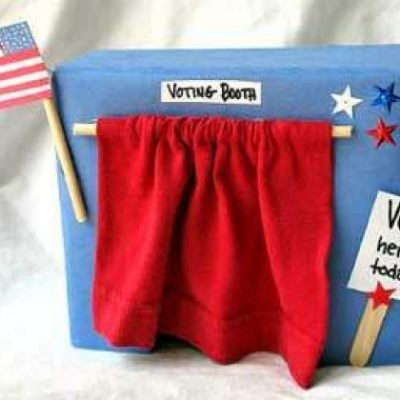 Miniature Voting Booth
Get your future voters into the swing early by helping them make this cute, miniature voting booth! Discuss how important it is to vote in our democratic society to groom them as future voices.
What you'll need
Toaster pastry box or other snack box
2 sheets of blue construction paper
½ sheet each white and red construction paper
One 12″ wooden dowel
8" x 8" scrap of red fabric (we used a t-shirt)
4 star shaped sequins (2 red, 1 white and 1 blue)
Black marker
Craft stick
Scissors
Glue stick
White craft glue
Toothpick
White acrylic paint
Hot glue gun
How to make it
Cut the flaps off the top of the cardboard box. Turn box over so that open end is touching table. This is your voting booth. From the front of the voting booth, cut an opening for the doorway.
Cover the entire box with blue construction paper using a glue stick.
To make the curtain, trim the fabric to cover the doorway of your booth, leaving about an inch extra on both sides and at the top. Use hot glue to "hem" the sides and make them neat.
Cut dowel in half. Lay fabric, facing down, on table. Lay half of the dowel onto the top part of the fabric. Roll the fabric down onto the dowel and hot glue in place, being careful not to glue the dowel to the fabric, only glue the fabric to itself. This will allow the curtain to move, creating gathers around the "rod."
Push the curtain and create gathers at the top, leaving about ½" of the dowel sticking out of both ends. Hot glue the curtain top to the voting booth over the doorway.
Create your "Vote here" sign by cutting a craft stick in half and gluing a piece of white paper to the top of it. Write the words "VOTE here today!" on the front. Glue a red sequin star where the signboard and the stick meet. Hot glue to the front of the booth, on the right side.
Create your American flag by cutting a rectangle from white paper. Cut a small blue rectangle and glue in the corner. Cut thin strips from red paper and glue onto the flag. Use a toothpick to dot on stars with white paint. Hot glue the flag to the other piece of dowel and glue to the top left side of the voting booth. Write the words "VOTING BOOTH" on a piece of white paper. Cut them out and glue to the top of the booth, above the curtain. Glue a red, white and blue star to the upper right corner of the voting booth.
This project was created by Amanda Formaro, originally for Kaboose/Spoonful.