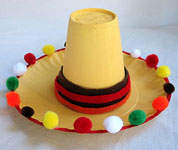 Mini Sombrero
Decorate for Cinco de Mayo with this adorable mini sombrero. It's a quick and easy craft that's simple enough for young crafters to do.
Supplies
Styrofoam or paper cup
Mini paper plate
1″ wide strip of brown felt
1/4″ wide strip of red felt
1/4″ wide strip of orange felt
Acrylic paint in red and sunflower (tan/yellow)
Medium pom-poms in red, green, yellow, orange, white and brown
Paint brush
Hot glue gun
Steps
Paint paper plate and Styrofoam cup with sunflower paint. Let dry and repeat.
Paint the outer edge of the plate rim red. Let dry completely.
Hot glue the Styrofoam cup to the center of the paper plate to form your hat.
Glue the red and orange felt strips onto the larger brown strip and let it dry. When dry, glue the completed hat band around the cup.
Glue the pom-poms to the red edge of the paper plate, alternating colors as you go (green, white, red, yellow, brown, orange, green, white, etc.).
This project was created by Amanda Formaro, originally for Kaboose/Spoonful.