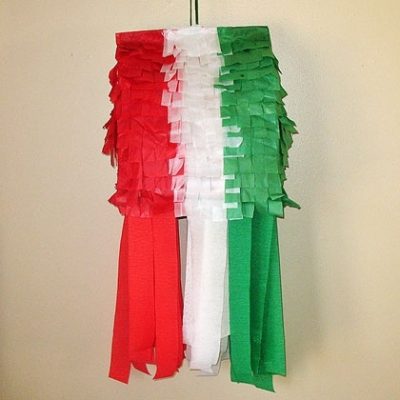 Mexican Flag Pinata
Celebrating Mexican heritage with a Cinco de Mayo party? Then you won't want to miss this fun piñata decorated like the Mexican flag!
What you'll need
1 brown paper grocery bag
Tissue paper in red, white and green
Crepe paper streamers in red, green and white
24″ green yarn
Hole punch
Stapler
Newspaper or other lightweight filler
Small trinkets and candies
Scissors
White glue
How to make it
Open the grocery bag and put treats and trinkets inside. Fill about ¼ full.
Fill remaining space with crumpled up newspaper. Leave a small amount of space at the top of the bag so it can be folded over and closed.
Fold top over and secure with staples.
Poke or punch a hole in the middle of the bag in the fold. Be sure it's low enough that the hole won't rip.
Cut strips of tissue paper (in each color) about 3″ x 5″. The easiest way to do this is to cut a strip of tissue paper 5″ wide the full length of the sheet. Next fold the tissue paper in half, cut. Hold those two together and fold both in half, cut. Repeat until you have rectangles that are approximately 3″ x 5″.
Fringe the ends of the tissue paper by cutting slits about halfway up.
Starting at the bottom of the bag, glue the tissue paper onto the bag by the solid edge only, do not glue the fringe down. Start with red on the left, then white in the middle, and green on the right.
Repeat these steps, working your way upward toward the top of the bag.
Cover the right side of the bag with green and the left side of the bag with red. Repeat the process on the other side, lining up the colors so that they match the side colors (green will be at the left and red at the right).
Thread string or yarn through hole at the top and tie a knot.
Gently lay the bag on its side.
Cut 12 strips of crepe paper streamers (12 of each color) and glue to the bottom of the bag.
Set aside to dry completely.
Hang by the string and hit with a wiffle bat or rolled up newspaper until it breaks.
This project was created by Amanda Formaro, originally for Kaboose/Spoonful.