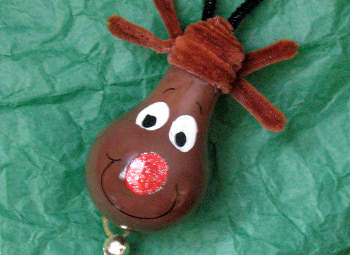 Light Bulb Rudolph Ornament
At Christmastime, Rudolph shows up in so many different shapes and sizes – this time we've made him using recycled light bulbs!
What You Need:
Light bulb
Acrylic enamel craft paint – brown, red, white
Black Sharpie
Brown pipe cleaners
Hot glue
Ribbon
Jingle bell
How to Make It:
Use the Sharpie to draw two circles for the eyes and one for the nose.
Leave the eyes and nose unpainted for now. Paint the rest of the light bulb with brown enamel paint and let it dry completely.
Paint the eyes and nose and let them dry completely.
Use the Sharpie to draw pupils, eyebrows, and a smile.
Shape the pipe cleaners into antlers and use hot glue to attach them to the light bulb.
Thread a jingle bell on a piece of ribbon and glue the ribbon so that the bell dangles just below Rudolph's chin.
This project was created by Amanda Formaro, originally for Kaboose/Spoonful.