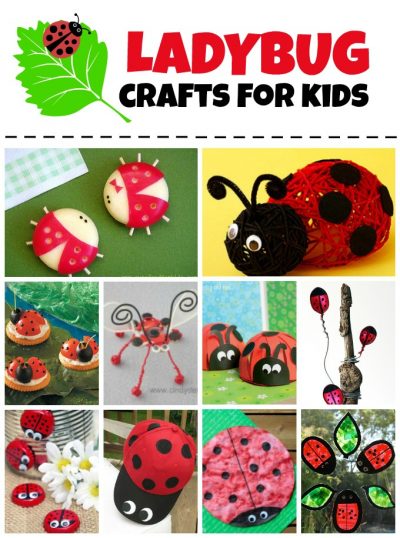 Here at Fun Family Crafts, we love ladybugs! We even have one in our logo. So it's no surprise that we have dozens of fun ladybug crafts for you to try. Here are ten of our favorites.
Ladybug Crafts for Kids
1. Yarn Ladybug – This cute ladybug is made from balloons and yarn. Get crafty (and a little messy) and make your own!
2. Ladybug Baseball Hat – You'll need a red hat and some fabric paint to make this easy ladybug hat.
3. Puzzle Piece Ladybug – Don't throw out the whole puzzle if you're missing pieces. Turn those puzzle pieces into critters, such as Dot the Ladybug.
4. Construction Paper Ladybug – Transform construction paper strips into a dimensional ladybug. It's fun and easy!
5. Bottle Cap Magnet Ladybugs – Decorate your refrigerator, locker, or other magnetic surface with these magnetic bottle cap ladybugs.
6. Ladybug Suncatchers – Use tissue paper to make vibrant ladybug and leaf suncatchers that look so beautiful hanging in a window.
7. Babybel Cheese Ladybug – Turn Babybel cheese into a healthy and tasty snack that is so incredibly cute!
8. Nail Polish Ladybugs – Create these cute little ladybugs with nail polish and wire, then use them to decorate pretty much anything!
9. Coffee Filter Ladybug – This coffee filter ladybug is fun and easy to make. If you think it's done with paint, guess again!
10. Ladybug Appetizers – Make these adorable ladybugs as a party appetizer or fun after-school snack.
Be sure to check out all 50+ of our ladybug crafts, including ladybug costumes, backpacks, beaded keychains, and much more!