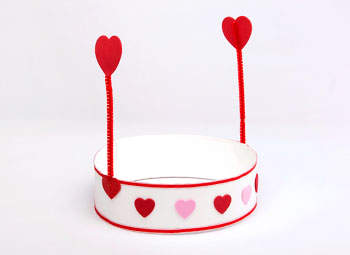 Valentine Hat
Add some fun and whimsy to Valentine's Day with our valentine hat that wiggles when you walk.
What You Need:
White construction paper or cardstock
Scissors
Pencil
Tape
2 red chenille stems
Adhesive-backed craft foam heart stickers
Red trim
Craft glue
What You Do
Cut the white paper into strips approximately 2″ wide. Wrap one strip around the child's head, marking where it overlaps. (If the strip is too short, tape two or more strips together.)
Trim the strip so that there is approximately 1″ of overlap when wrapped around the child's head. Use the pencil to mark the sides of the hat where the chenille stems will go.
Attach two identical heart stickers to the top of each chenille stem. They should be facing each other so that they stick together and trap the stem inside.
Lay the hat on the table with the taped side facing down. Use a small piece of tape to attach each chenille stem to the marks that you made in the previous step. Use heart stickers to secure them in place.
Decorate the hat by placing heart stickers across the front. We alternated red and pink.
Glue the red trim to the top and bottom edge of the hat. Let the glue dry completely.
Using the mark you made in step 1, tape the hat into a circle. It's ready to wear!
This project was created by Amanda Formaro, originally for Kaboose/Spoonful.