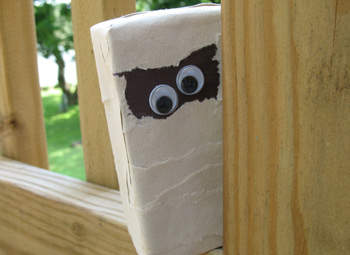 Juice Box Mummies
Don't throw out those empty juice box containers! Make a slew of these super easy mummies to celebrate Halloween.
What You Need:
Empty cardboard juice box container
2 tablespoons rice
Fold top sandwich bag
Tape
Black and white construction paper
Scissors
Glue stick
2 medium googly eyes
White craft glue
How To Make It:
Cut open the top of the juice box container, rinse and dry thoroughly.
Place rice inside sandwich bag. Roll up the bag and secure with tape.
Place bag of rice inside juice box and tape the top closed.
Cut a piece of black construction paper, large enough to cover the top
half of the front of the juice box. Glue it in place.
Tear white construction paper into strips and glue them around the
box, leaving a small section of the black paper visible for the eyes.
Use white craft glue to attach two wiggle eyes to the black paper.
This project was created by Amanda Formaro, originally for Kaboose/Spoonful.