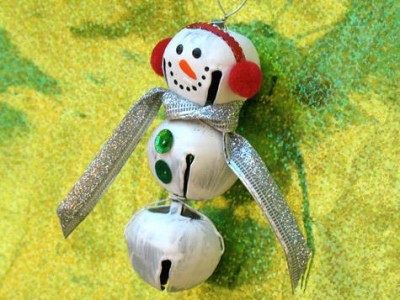 Jingle Bells Snowman
This cute snowman ornament looks adorable hanging from the Christmas tree. Make it as is, or simplify it by using one bell for the head and skipping the body.
What You Need:
jingle bells
floral wire
white gesso
Sharpies (black, orange)
craft glue
sequins
sequin trim
pom poms
ribbon
How to Make It:
Thread a piece of floral wire down through the top of one bell, twist it to secure it in place, then thread it through the top of the second bell. Repeat the process to add the third bell, then twist tightly to secure the wire. Trim as needed, then push the ends down into the third bell so that they don't poke out.
Paint the bells with white gesso or an acrylic paint formulated for metal. Let the paint dry completely.
Use Sharpies to draw eyes, a mouth, and a carrot nose on the first bell.
Use a strong craft glue to attach a piece of sequin trim and two mini pom-poms to the snowman's head to make the earmuffs. Glue sequins to the second bell for the snowman's buttons.
Tie a piece of ribbon around the snowman's neck to make his scarf.
This project was created by Amanda Formaro, originally for Kaboose/Spoonful.