These Jack O'Lantern luminaries are easy for kids to make and they are a fun art project as well. I used orange fabric, but you could easily substitute orange tissue paper or crepe paper instead.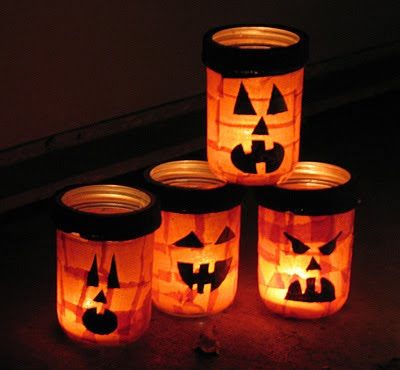 All you need is the fabric or tissue paper and some empty jars. I used canning jars, but any kind of recycled glass jar will work.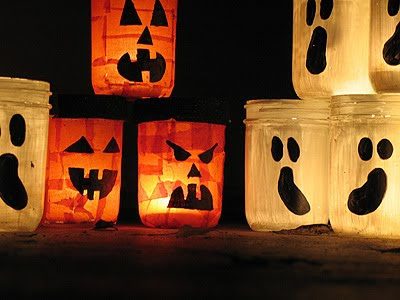 And if you are concerned about using real candles (I use tea lights), you can easily substitute LED tea lights instead. They work just fine! Also, you can see the ghost luminaries here that are pictured above.
Jack O'Lantern Luminaries
You will need
Clean, empty glass jars
Orange fabric (or tissue paper or crepe paper)
Black felt
Decoupage (such as Mod Podge)
Paintbrush or foam brush
Scissors
Hot glue
NOTE: You are welcome to use a homemade decoupage for kid's projects, HOWEVER I would not recommend it for this particular project, especially if you would like your jars to last year after year. A mixture of white glue and water does not have the same formulation as a store bought decoupage medium and can yellow over time and even peel.
To make your luminaries:
Cut fabric into pieces, 2×2 inch squares work nicely.
Apply decoupage medium to a section of the jar using the paintbrush. Mixture on jar surface should be generous but not dripping.
Press a piece of orange fabric to the decoupage medium and smooth it out using the paintbrush.
Continue applying the fabric, overlapping the pieces as you go, until jar is completely covered.
Apply a final coat of decoupage medium all over the fabric on the jar.
ALLOW TO DRY before continuing.
Cut a strip of black felt and hot glue it around the rim of the jar.
Cut Jack O'Lantern faces from black felt and glue to the front of each jar.
Add a candle and enjoy!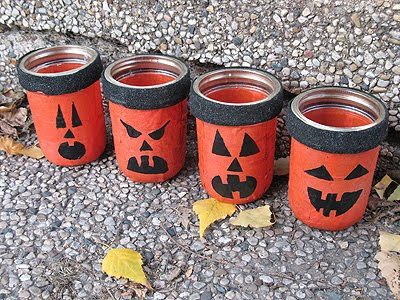 Here is what your Jack O'Lantern luminaries will look like during the day. You might also like my Halloween Luminaries using different colored paints!