Make your Hanukkah celebration even more special with homemade crafts and treats! We've gathered over 30 great Hanukkah-themed projects for kids to do during the Festival of Lights. You're sure to find several that will enhance your holiday celebration.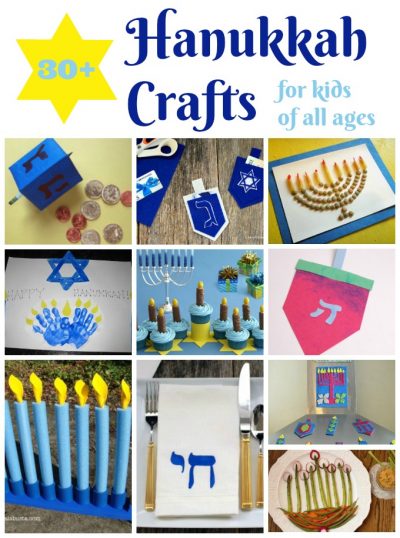 Hanukkah Crafts and Recipes
1. Eight Nights of Light Cupcakes – Create a delicious menorah using cupcakes, Twix bars and M&M's. This tasty treat is easy to make and lots of fun!
2. Hanukkah Stenciled Napkins – These napkins add a simple and elegant touch to the Hanukkah table. The printable template includes the Star of David and 'Chai,' the Hebrew word for 'life.'
3. Milk Carton Dreidel – Playing the dreidel game and eating gelt is one of the best parts about the Hanukkah celebration. To add to the fun, make your own dreidel out of recycled materials.
4. Pool Noodle Menorah – Make a fun menorah from pool noodles and craft foam. Kids can use it to practice setting up and lighting the candles one by one.
5. Handprint Menorah – This charming handprint project will be a keepsake you treasure for years to come. Add contact paper to turn it into a personalized placemat!
6. Dreidel Gift Card Holders – Dress up gift cards with these felt dreidel gift card holders. Just print, trace, cut and glue!
7. Edible Menorah – Celebrate Hanukkah with this healthy, edible menorah. Or, put out plates of different fruits and veggies and let everyone make their own creation!
8. Macaroni Menorah – Use macaroni and lentils to make this cute Hanukkah craft. It's a fun way to celebrate the holiday with kids.
9. Dreidel Card – Some dreidels are for spinning, but this one's for giving! Send it to someone special with Hanukkah greetings.
10. Hanukkah Magnets – Use craft foam to create colorful and glittery magnets for Hanukkah. Use your creativity and see what you can make!
Be sure to check all the Hanukkah crafts and recipes we've featured at Fun Family Crafts!