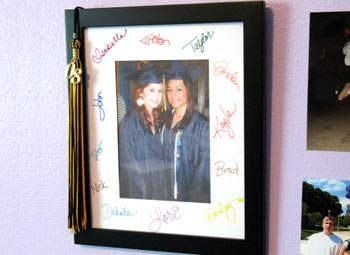 Graduation Signature Frame
This wonderful keepsake frame is very easy to make and will be cherished for many years to come. It is very easy to do and suitable for any graduate.
What You Need
Frame with white matte
Colorful fine tip pens or markers
How To Make It
Have each of your friends sign the matte using different colored pens.
Insert a graduation picture into the matte and place in frame.
You can decorate the frame with your graduation tassel, a corsage, or anything else.
This project was created by Amanda Formaro, originally for Kaboose/Spoonful.