Graduation season is almost here! We've gathered over 40 graduation crafts and recipes for graduates of all ages, from preschool through college. You'll find fun gifts, cute party favors and decorations, and plenty of tasty treats.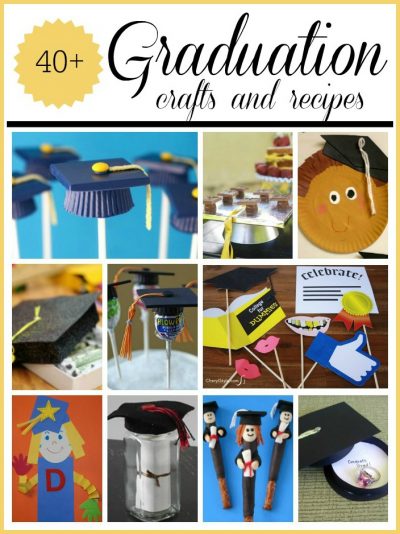 Graduation Crafts and Recipes
1. ConGRADulations! Gift Box – Decorate a jewelry box to look like a graduation cap, then fill it with money, a gift card, or a small present. It's easy to do and makes a graduation gift even more special.
2. Graduation Self-Portrait – This graduation self-portrait is a great end-of-year craft for preschoolers or kindergarteners. Parents will love this fun keepsake.
3. Lollipop Graduation Favors – Make cute and inexpensive graduation favors from lollipops. Change the tassel color or cover the lollipop wrapper with tissue paper in school colors.
4. Pretzel Pop Graduates – These decorated pretzels make excellent favors, gifts, or desserts for a graduation party. They look almost too good to eat!
5. Paper Plate Graduates – Celebrate preschool or kindergarten graduation by having the graduates make paper plate versions of themselves. It's a wonderful keepsake for parents and fun to pull out when the child graduates from high school or college!
6. Graduation Cap Cake Stand – Display treats at a graduation party with a mortarboard cake stand. It is quick and easy to make and simple to customize with the graduate's colors.
7. Printable Graduation Party Photo Props -Make a graduation party even more fun with these awesome photo booth props. Just print, cut, and glue!
8. Sweet Treat Graduation Caps – Turn chocolate and candies into adorable graduation caps that everyone will love. There's a version using peanut butter cups as well as an idea for cake pops.
9. Graduation Gift Box – Use cardstock and yarn to craft a homemade gift box for a special graduate. It's easy to do and will stand out among a table of gifts.
10. Graduation Cap Gift Jar – Don't use a boring envelope when giving money to a graduate. Roll it up, tie it with a ribbon, and put it inside a gift jar with its own built-in graduation cap!
These are just some of the fun ideas we have. Be sure to check out all the graduation crafts and recipes!