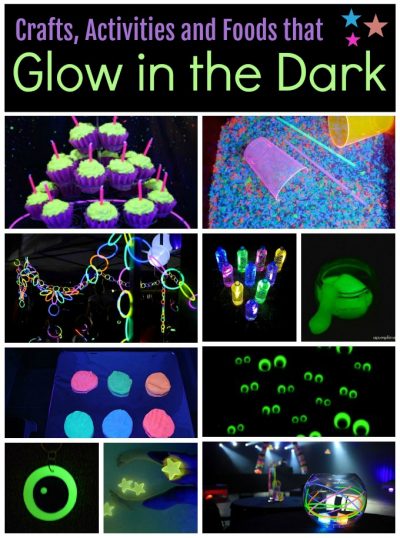 Glow-in-the-dark crafts are so much fun and there's something almost magical about them. We've gathered all sorts of crafts, activities, and party ideas that glow in the dark. Below are ten of our favorites.
Glow-in-the-Dark Crafts
1. Glow-in-the-Dark Rice – Make sensory play extra special with rice that glows in the dark. Kids of all ages will want to dig in!
2. Black Light Cake – Turn off the lights and watch the guests react when the cake glows! This post has tons of ideas to throw a stunning black light party.
3. Glow-in-the-Dark Bowling – Use glow sticks to create a bowling game that lights up for nighttime fun. It's fun indoors or out.
4. Glow Dough – Older kids may not be interested in regular play dough, but they'll definitely want to join the younger ones when the lights are out and the dough glows.
5. Glow Necklace Party Decorations – Decorate for an evening party with party decorations made from glow necklaces! It's so easy and looks amazing.
6. Glow-in-the-Dark Slime – Call it slime, gak, putty, or goo. This glow-in-the-dark substance will entertain kids of all ages!
7. Glowing Gelatin – This glowing gelatin is meant for sensory play, not eating, but it is safe for toddlers who might put it in their mouths. It's so much fun!
8. Glow-in-the-Dark Party – Throw an amazing glow-in-the-dark party! The post has ideas for decorations, favors, and treats that glow.
9. Glowing Googly Eye Art – Make this cool googly eye art, frame it, and then turn out the lights for some not-so-scary fun!
10. Glowing Monster Eye Keychains – These glow-in-the-dark monster eyeball keychains are easy to make and look awesome hanging from a backpack. What a fun party favor!
Don't forget to check out the rest of the glow-in-the-dark crafts and activities!