Looking for some ghoulish and ghostly ideas to dress up your Halloween party? Maybe you just need some quick and fun decorations to get your house ready for the big day? Or maybe, your kids just love ghosts as much as we do! At Fun Family Crafts, we have plenty of ghost crafts and recipes for you to browse. Below are 10 of our favorites.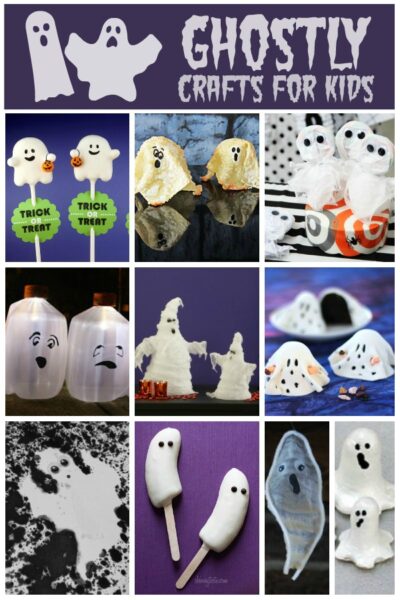 Ghost Crafts and Recipes
1. Ghost Cake Pops – Serve up adorable ghost cake pops this Halloween. They're guaranteed to be a hit.
2. Sweet Ghost Crisps – These frightful ghosts are shockingly easy to make. Their sweetness and crispy texture will win anyone over.
3. Solar Milk Jug Ghosts – Safely light the way for trick-or-treaters by using solar lights and milk jugs. So clever!
4. Gluey Ghosts – This craft is easiest enough for even the youngest of crafters. It's the perfect activity for kids who like to go a little crazy with the glue!
5. Ghostly Sweets – Wrapping lollipops to look like ghosts is a Halloween classic! Introduce young children to the tradition with this fun take on it.
6. Salt Dough Ghost Family – Salt dough crafts are a great choice for a Halloween party or classroom project. They're inexpensive with tons of room for creativity.
7. Cheesecloth Ghosts – These delightful ghosts are very easy to make and look just spooky enough to make an awesome Halloween decoration.
8. Charlie Brown Ghost Brownies – What would Halloween be without Charlie Brown and the Peanuts gang? Recreate good ol' Charlie Brown's costume with these tasty treats.
9. Spray Bottle Ghost Art – Crafters young and old will enjoy creating ghosts using a spray bottle. It's great for developing motor skills, too.
10. Frozen "Boo"nana Pops – What's healthy and tasty and perfect for Halloween, too? Why, these "Boo"nana pops, of course!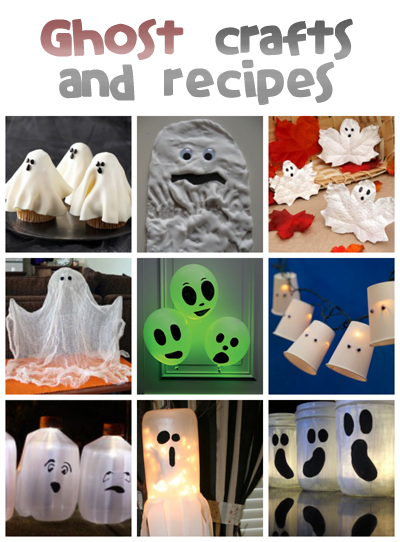 Don't forget to check out the rest of our ghost crafts and recipes. All of our Halloween crafts, recipes, printables and costumes are waiting for you too!