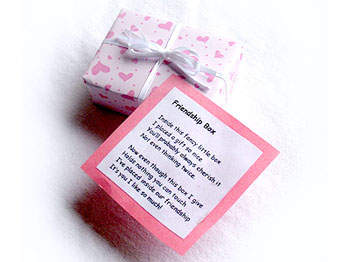 Friendship Box
Celebrate Valentine's Day or Best Friends Day (June 8) with this charming Friendship Box. It holds a special poem to let your BFF know just how special she is to you!
What You Need:
small, empty box
patterned paper or wrapping paper
tape
ribbon
cardstock
Friendship Box poem (below)
glue
How to Make It:
Center the box over the patterned paper and wrap it like a gift. Secure the ends with tape.
Tie a ribbon around the box.
Print the Friendship Box poem and mat it on pink cardstock.
Inside this fancy little box

I placed a gift so nice

You'll probably always cherish it

Not even thinking twice.

Now even though this box I give

Holds nothing you can touch

I've placed inside our friendship

It's you I like so much!
This project was created by Amanda Formaro, originally for Kaboose/Spoonful.