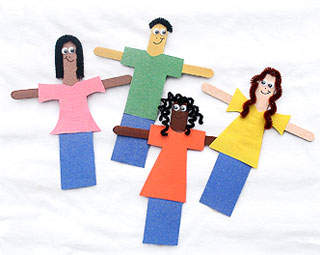 Freedom Friends Puppets
Share Martin Luther King's belief in peace and friendship with these freedom puppets. It's a fun way to teach kids that friends come in all colors and sizes!
What You Need:
Craft sticks
Glue
Yarn
Scissors
Construction paper
Marker
Googly eyes
How to Make It:
Count out five craft sticks for each stick person. Trim four of them using scissors to make arms and legs. The uncut craft stick is the torso.
Attach the legs and arms to the uncut popsicle stick by dabbing glue on each part and pressing them onto the torso. Place the torso under a heavy book until the glue is dry.
While the skeleton is drying, use construction paper to cut circles for the puppets' heads. Glue googly eyes in place, then draw in noses and mouths. To make hair, cut strands of yarn and attach them to the heads with glue. Set the heads aside.
Cut construction paper shirts and pants for each character.
Glue the heads, shirts, and pants in place. Now you're ready for a puppet show!
This project was created by Amanda Formaro, originally for Kaboose/Spoonful.