May is Flower Month, but anytime is great for a flower craft! Whether it's Valentine's Day in February or Mother's Day in May, or maybe even a birthday during another part of the year, flowers are always great. Below are ten of our favorite flower crafts for kids. Check those out, then come see all 400+ flower crafts and recipes we have for you at Fun Family Crafts!

Flower Crafts and Recipes
1. Zinnia Flower Pinecones – Transform one beautiful item from nature (pinecones) into another (zinnias) with just a little bit of paint. The results are stunning.
2. Painted Paper Plate Flowers – Create gorgeous flowers with plenty of impact using paper plates and paint. These make fantastic (and inexpensive) party decorations.
3. Spring Fruit Flower Treat – Make a tasty treat featuring kiwi and strawberry flowers. So cute and delicious, too!
4. 3-D Flower Bouquet – Create a dimensional bouquet of paper flowers that a parent, grandparent or other special friend will cherish.
5. Bottle Cap Flower – Use bottle caps to make a colorful and unique flower sculpture for the garden.
6. Egg Carton Flower Magnets – Turn egg cartons into beautiful flower magnets! This project is quick, easy and turns out great every time.
7. Button Flowers – This beautiful bouquet of flowers will never wilt. It's easy to do, even on the go!
8. Money Bouquet – Use money from around the world to make a pretty flower bouquet that anyone would love to receive. This is a great gift idea for a teen who loves travel.
9. Flower Cookies – These gorgeous flower cookies look difficult to make but they don't require any experience or special decorating skills to make!
10. Chocolate Flowers – Make a bouquet of flowers using delicious chocolates. Practically anyone would love to receive it as a gift.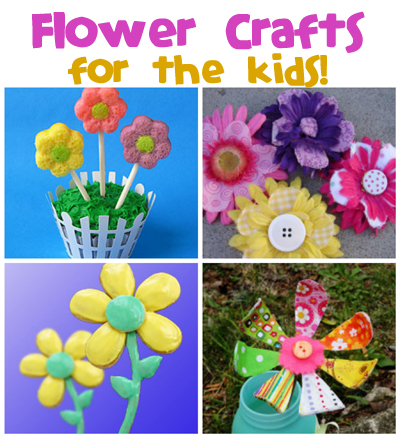 We have over 400 flower crafts and recipes for kids and are adding more all the time. Come see!