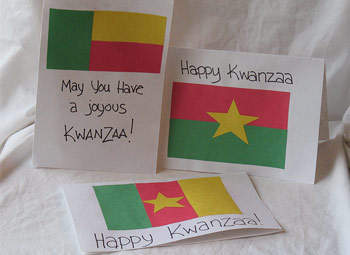 Flags of Africa Kwanzaa Cards
Do some research on your family's heritage, find your flag, and make a Happy Kwanzaa card! The cards pictured above include the flags of Benin, Burkina Faso, and Cameroon.
What You Need:
White cardstock, cut to 8.5″ x 5.5″
Pencil
Markers
How You Make It:
Fold the cardstock in half.
Decide whether you want your card to be horizontal or vertical. Use the pencil to lightly sketch the flag.
Color the flag with markers.
Add your Kwanzaa message below or above the flag.
This project was created by Amanda Formaro, originally for Kaboose/Spoonful.