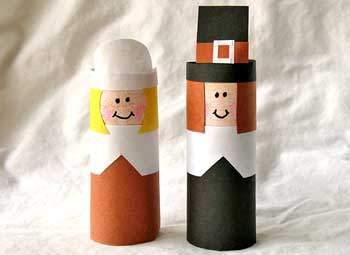 Finger Puppet Pilgrim
Make these finger puppet pilgrims from recycled cardboard tubes and construction paper. This fun craft is a great way to keep kids entertained while waiting for Thanksgiving dinner this year
What you'll need
Construction paper: white, brown, black and yellow
2 short or 1 long cardboard tube(s)
Scissors
Glue stick
Peach and pink crayons
Black marker
How to make it
Color a 2″ x 6″ section of white construction paper with the peach crayon. Cut out the section, then cut it in half. You should now have 2- 2″ x 3″ peach pieces.
Glue the peach strips to the top of the 2 cardboard tubes. These will be the faces. Cover the remainder of the cardboard tubes with black (man) and brown (woman) construction paper, overlapping the peach face a little.
Cut 2 collars from white construction paper. Glue to top of the shirts, wrap around and glue in place.
Cut the woman's hair from yellow construction paper and the man's hair from brown construction paper. Wrap each around the back of the cardboard tubes and trim if needed. Glue in place.
Cut the man's hat from black paper and woman's bonnet from white. Cut a small strip of brown for the hat band, then glue and trim it.
Cut small strips of white paper for the buckle and glue it to the hatband. Glue the hat to man's head and the bonnet to woman's head.
Use pink crayon to add rosy cheeks. Use black marker to add eyes and smiles.
Insert fingers into bottom of tube and play with your puppets!
This project was created by Amanda Formaro, originally for Kaboose/Spoonful.