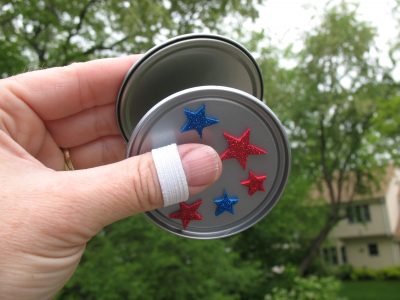 Finger Cymbals
Don't throw away those juice can lids! Make fun and musical finger cymbals!
What You Need
2 juice can lids (from frozen concentrate cans)
10" of ½" wide elastic
Scissors
Instant grab glue
Stickers
How to Make It
Wrap elastic around the middle or forefinger to get a measurement. You want the finger to fit inside comfortably without being too loose. Do the same for the thumb.
Secure those two pieces of elastic with instant grab glue and let dry.
Test the juice can lids by clapping them together. Choose which side you like best to determine which side to attach the elastic finger rings. Use instant grab glue to secure the finger rings to the juice can lids. Let the glue dry for about 2 hours to ensure that the rings will not come off.
Decorate with stickers.
This project was created by Amanda Formaro, originally for Kaboose/Spoonful.