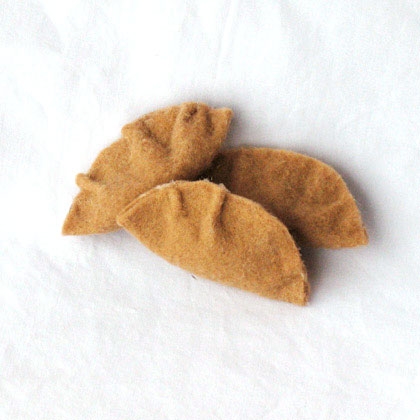 Cute little dumplings made from felt are perfect for Chinese New Year or for your child's play kitchen! Felt food is a great way to encourage your child's imagination.
FELT DUMPLINGS
Dumplings have a resemblance to ancient Chinese coins, making them symbolic of wealth for the Lunar New Year. Make some of these felt versions to wish your family prosperity for the year to come.
What you'll need:
Tan felt
Scissors
Low temp hot glue gun
2 pairs of tweezers
Helpful Tip:
Ask your local craft supply store about low temp glue guns. This craft can be made with white craft glue but it takes much longer to dry. You can hold the edges of the dumpling together with mini clothespins while they dry. For smaller children don't bother with crimping the edges, simply glue them closed.
How to make it:
Cut felt into 3″ diameter circles
Cut the scraps of felt that are left over into small pieces.
Place the small pieces of felt into the center of the felt circles; this will serve as the dumpling filling.
Fold the felt circle in half to form the dumpling.
Parents should line the inside edge of the top of the dumpling with hot glue. Use tweezers, one in each hand, to pinch the top of the dumpling together, like you would dumpling dough. Allow to dry.
Get the instructions for ––> Felt Dumplings