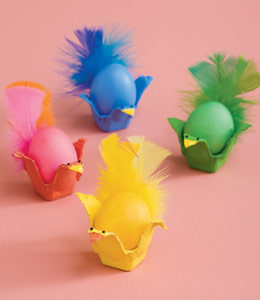 Turn recycled cardboard egg cartons into colorful fancy birds! This simple craft is a fun project to do during spring.
What you will need:
Egg carton (paper-based works best with paint)
Acrylic paint
Paintbrush
Tacky glue
Colored feathers
Small, black seed beads
Eggs (hardboiled, blown, wooden, or plastic)
How to make it:
For each egg holder, cut a cup from the egg carton.
Paint the cup inside and out.
Let it dry, then fold over a portion of the egg carton to make the beak. Paint the beak.
Glue on the tail feathers and bead eyes and put the painted egg in the cup.
Originally posted online in FamilyFun Magazine which has since been closed.