This post brought to you by Scotts Miracle-Gro. All opinions are 100% mine.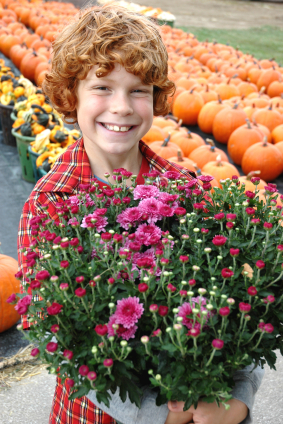 Kids love being in the garden, and everyone knows how they like to get their hands dirty! Most people think that when fall hits the planting season is over. Nothing could be further from the truth, Fall gardening has just begun! Find beauty in the Fall, it's a great time to be in the garden, whether it be planting some bulbs for spring, harvesting the last of your summer bounty, or planting trees and shrubs. It's a great opportunity to get kids into the garden and teach them about nature.
Starting with fall's favorite flowers, mums and pansies, is a great way to show the kids the right way to plant something beautiful. Be sure to pick up some Miracle Grow Potting Mix which is absolutely ideal for container planting. Feed your plants for up to 6 months with its Continuous Release Plant Food. The rich organic materials will help improve drainage and air flow. You can find lots of tips and tricks on the Miracle-Gro Facebook page.
The first thing you will want to do is decorate a pot or two for your fall flowers. Here are a few ideas to get you started:
Strawberry Terra Cotta Pots
Hand Painted Flower Pots
Marbled Pottery Painting
Pumpkin and Jack-o'-Lantern Pots
Faux Mosaic Flower Pot
After you've decorated your pot, line the bottom with a layer of pebbles or gravel. This will help provide drainage and keep water from saturating the roots and creating root rot. Add some Miracle Grow Potting Mix, about halfway up the pot. Carefully remove the potted flowers from the plastic planter, careful not to tear the roots. Carefully loosen the packed roots a bit and place it into the pot. The top of the soil in the plant should be level or just below the top of your planter.
Fill the rest of the way with Miracle Grow Potting Mix. Pack the soil down lightly and top off with more soil if needed.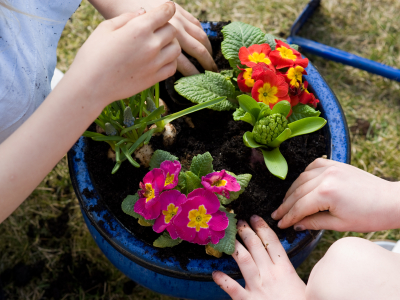 Water your plant and display by your front door or on the porch. Now that your flowers are planted you might want to make some fun plant markers. Here's a couple fun ideas for your new fall garden!
Easy Stone Markers
Garden Plant Markers
Have a fun time in the garden with your kids!