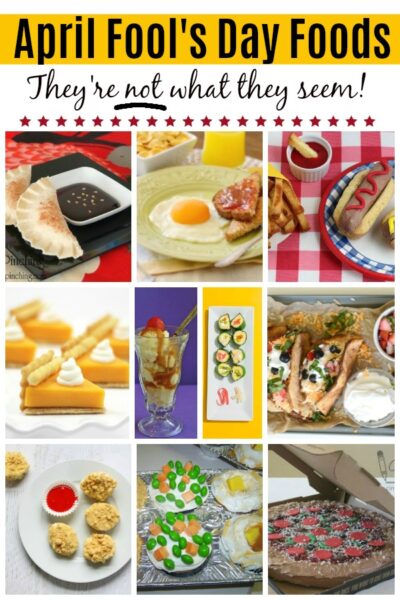 Our favorite way to celebrate April Fool's Day is by surprising the family with foods that aren't what they seem. Below are ten recipes that taste delicious, but nothing like you'd expect!
Fabulous Foods for April Fool's Day
1. "Chicken Nuggets" – These definitely don't taste like chicken!
2. "Pizza" – Not a tomato in sight.
3. "Hot Dogs" – These do not belong on the grill.
4. "TV Dinner" – Not chicken. Not potatoes. Not veggies.
5. "Potstickers" – Not your traditional Chinese take-out.
6. "Sushi" – Absolutely not sushi.
7. "Egg Breakfast" – No eggs were used in the making of this breakfast.
8. "Pumpkin Pie" – Not pie. Not even dessert.
9. "Sundae" – On the plus side, it will never melt!
10. "Tacos" – You won't find these at a Mexican restaurant.
Need more ideas for April Fool's Day? We have plenty more ideas to make April 1st memorable!