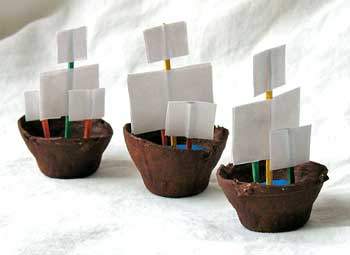 Egg Cup Ships
This Columbus Day, make your own mini versions of the Nina, Pinta, and the Santa Maria! This fun recycle project is easy to put together and great for a classroom activity.
What you'll need
3 cardboard egg cups
Brown acrylic craft paint
Paintbrush
¼ cup modeling clay or play dough
6 toothpicks
1 sheet white paper
Scissors
White craft glue
How to make it
Paint the egg cups inside and out with brown paint. Set aside to dry.
Cut sails from white paper. You will need 6 large sails (1.5″ x 1″) and 18 small sails (.5″ x .75″).
Set aside three of the toothpicks for the large sails. Break or cut the other three toothpicks in half, giving you 6 halves. Put a line of glue through the middle of one of the small sails. Place the cut or broken end of one of the toothpick halves onto the glue line. Roll it in the glue to cover both sides, then place another sail on top, sandwiching the two sails together. Flatten the sails together with your fingers and set aside to dry. Repeat to make the other small sails.
Make the larger sails using a toothpick, 2 small sails and 2 large sails for each. Glue the small sail to the end of the full toothpick, and then glue the larger sail beneath it, leaving a small gap between the top and bottom sail. Set aside to dry.
Roll a small amount of clay in your palm, enough to line the bottom of the egg cup. Place in the egg cup and flatten to cover bottom.
Insert open end of large sail into the middle of the clay. Insert two small sails, one on either side of the large sail, into the clay.
This project was created by Amanda Formaro, originally for Kaboose/Spoonful.