These cute little insects are made from recycled cardboard egg cartons, paint and chenille stems. They're easy for small hands to work with and leave tons of room for creativity!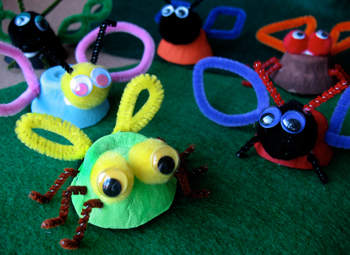 Egg Cup Insects
This is a great group project, perfect for summer camp or daycare!
What you need:
Cardboard egg carton
Acrylic craft paint
Colorful pipe cleaners (regular and mini)
Pom poms
Googly eyes
White craft glue
Scissors
How to make it:
Cut egg cups from the egg carton. Trim the egg cups to make them even.
Paint the bottoms of the egg cups and let them dry. Use various colors to make them all different!
While egg cups are drying, cut pipe cleaners into 3-inch pieces (for legs and antennae) and 6-inch pieces for wings.
To assemble your insects, bend pipe cleaners into legs and insert into the egg cup. An adult may need to poke a starter hole for children.
Make the bugs unique by creating different looks with wings, legs and googly eyes. You can glue googly eyes to the pom-poms and then attach those to the egg cup to give a "bug-eyed" appearance.
This project was created by Amanda Formaro, originally for Kaboose/Spoonful.