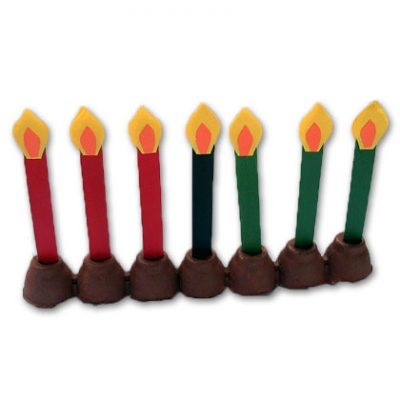 Egg Carton Kinara
During the season of Kwanzaa, make this fun kinara from egg cartons. The colors of the candles represent the people (black), their struggles (red), and the future (green).
What you'll need:
Egg carton (you need 7 egg cups)
7 jumbo craft sticks
Yellow and orange construction paper
Acrylic paint: green, red, black, and brown
Glue
Scissors
Paintbrush
Hot glue gun
How to make it:
Cut an egg carton down the middle to create 2 lengths of six cups. Cut one of those lengths in half, creating 2 lengths of three cups each. Cut one egg cup from the other length of 6. You will need the 2 sets of 3 and the single cup; set aside the other cups for another project.
Trim the edges of the egg cups with scissors so each will stand evenly with the cup opening pointed down.
Hot glue the single egg cup between the two three piece egg cups to create one long 7 cup piece.
Use a pair of scissors to carefully poke a slit into the top of each egg cup.
Paint the egg cups brown. Let dry.
For the craft sticks, paint one black, three green and three red. Paint both sides and add another coat if you prefer. Let dry.
Cut out simple flame shapes from yellow construction paper, large enough to fit at the top of each craft stick. Cut out smaller versions from orange construction paper. You will need 14 of each color.
Glue the yellow flames to the tops of the craft stick candles, with one on each side so that the project can be viewed on both sides. Glue the orange flames to the yellow flames.
During each day of Kwanzaa, a new candle is lit. To 'light' your kinara, insert the craft stick candle into the egg cup slit made in step 2. The black candle is first and goes in the middle, followed by the green and red, alternating a different one each day. (The red candles go on one side and the green on the other.) Insert your kinara candles as your parents light the real kinara.
Helpful Tips:
For smaller children, instead of making the flames from two colors of construction paper, simply use yellow and let them draw on the orange part with crayons or markers.
Craft foam is a great substitute for construction paper.
This project was created by Amanda Formaro, originally for Kaboose/Spoonful.