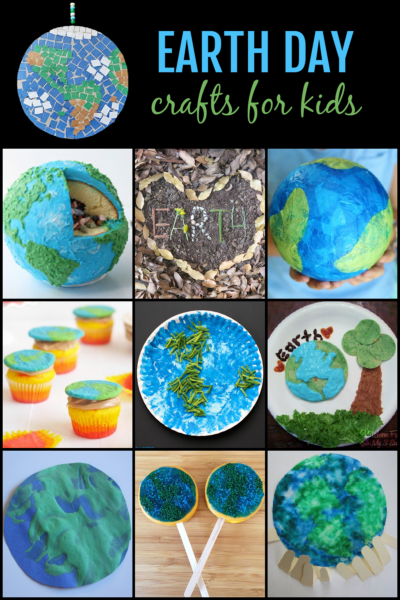 We celebrate Earth Day each year on April 22nd and Earth Month during the entire month of April. It all started in 1970 with a grassroots movement that has developed into the Earth Day we know today. Teach your kids about recycling and keeping our planet healthy and clean through fun Earth Day crafts and recipes. We've listed ten of our favorites below.
Earth Day Crafts and Recipes
1. Earth Day Nature Collage – Celebrate Earth's beauty by rearranging natural objects you find into a temporary collage. Don't forget to take a picture!
2. Earth Day Dinner – With just a few creative twists, a regular dinner can become a delicious tribute to Earth. Kids will love making and eating this craft.
3. Paper Plate and Yarn Earth – This paper plate Earth is so much fun for young crafters. Little hands will love the clever painting technique and applying the yarn.
4. Earth Day Cupcakes – These Earth Day cupcakes feature blue and green cookies atop cupcakes colored to look like the inner core layers of our planet. What a fun treat!
5. Mosaic Earth – Use construction paper or pages torn from magazines to make a pretty mosaic of our planet.
6. Earth Cake Filled with Candy Rocks – This spectacular cake will is much easier to make than it seems. Guests will be amazed when candy rocks spill out when you cut it!
7. Coffee Filter Earth – Color a coffee filter craft to look like Earth, then cradle our planet with cut-out handprints.
8. Puffy Paint Earth – Learn how to make your own puffy paint, then apply it by hand. Literally! The kids will love it.
9. Moon Pie Earth Pops – Turn Moon Pies into Earth Pies! It couldn't be easier.
10. Tissue Paper Globe – Decoupage tissue paper onto a foam ball to make this cute globe. It's very lightweight, perfect for hanging.
Remember, we have a lot more Earth Day crafts and recipes here at Fun Family Crafts! Be sure to check them out.