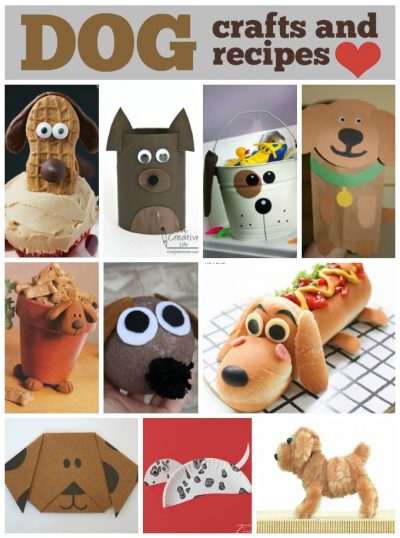 The dog has always been known as man's best friend. Dogs are loyal and caring. When raised with children, can become their best playmate. National Dog Day falls on August 26th, but there's no reason to wait for a special day to make any of these clever dog crafts and recipes!
Dog Crafts and Recipes
1. Hot Dog Puppy – Make a hot dog lunch that looks like a puppy. It's almost too cute to eat!
2. Cardboard Tube Dog – Turn an empty cardboard tube into a dog. Change the ear shape and color to match your favorite pooch.
3. Pipe Cleaner Dog – Use pipe cleaners to make adorable, fluffy puppies.
4. Dachshund Cookie Cupcakes – Store-bought Nutter Butters become dachshunds with this clever cupcake craft!
5. Paper Bag Dog Puppet – Turn a brown lunch sack into a cute puppet that is great for imaginary play.
6. Dog Toy Bucket – Keep the playroom, the car, or any other location clutter-free by storing toys in this cute dog bucket.
7. Origami Dog – It only takes four simple folds to make an origami dog. Customize the colors, spots and other markings to mimic your favorite canine.
8. Dog Clay Pot – Use polymer clay to personalize a pot to look just like a special dog. Fill it with treats or a pet-safe plant.
9. Paper Plate Dalmatian – Pair this simple craft with a book or a movie that features dalmatians, or make it after a visit to a fire station!
10. Felt and Foam Dog – Use a styrofoam ball and other basic craft materials to create an adorable puppy dog.
Don't forget to check out the rest of the fun dog-themed crafts and recipes here on Fun Family Crafts!