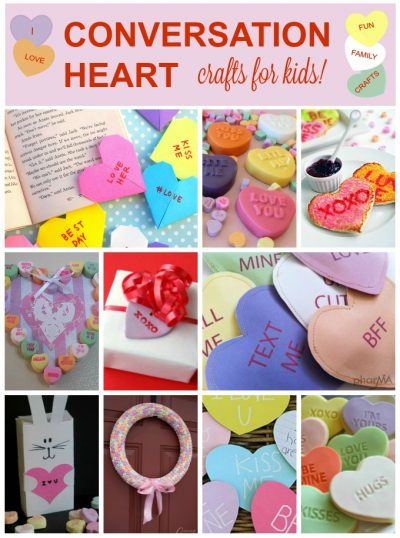 Conversation hearts have been around since 1866, when Daniel Chase invented a machine that would press food dye into the NECCO candy wafers made by his brother Oliver. These popular candies have come to be one of the most recognized symbols of Valentine's Day. Here at Fun Family Crafts, we've gathered up a bunch of conversation heart craft tutorials inspired by the sugary treats. Below are ten of our favorites.
Conversation Heart Crafts for Kids
1. Conversation Heart Candy Pouches – These printable pouches couldn't be easier. Just print, cut, sew, and stuff!
2. Conversation Heart Wreath – Decorate for Valentine's Day with this sweet wreath! It makes a fun gift.
3. Clay Conversation Heart Gift Tag – Use clay to make gift tags that look like conversation hearts. The recipient can save it to use as a zipper pull or a charm.
4. Conversation Heart Bunny – Take a few minutes to turn a plain box of conversation hearts into a bunny before giving it to someone special. It's easy to do and so cute, plus you can still access the candy!
5. Cereal Box Conversation Hearts – Use empty cereal boxes to make conversation hearts to give out on Valentine's Day. Great for boys and girls!
6. Conversation Heart Toast – Serve a special breakfast your loved ones won't forget. There's no sugar involved, so it only looks sweet!
7. Conversation Heart Oreos – These conversation hearts couldn't be easier. And what a fun surprise to find an Oreo inside!
8. Origami Conversation Heart Bookmark – If you're anything like me, you love reading as much as candy and crafting. Combine all three with this project!
9. Conversation Heart Magnet – Use edible conversation hearts to make a magnet to hang on your fridge or give as a gift.
10. Conversation Heart Cookies – An imprint stamp makes these cute conversation heart cookies so easy to make. They're the perfect treat for Valentine's Day.
Be sure to check out the rest of the kids' crafts inspired by conversation hearts!