October is National Clock Month. Celebrate by making one (or more!) of these fabulous clock activities & crafts. We have put together a collection of clock activities for teaching time, some tasty edible clocks, countdown clocks, and even a clock made from a book! You can see all the clock activities here.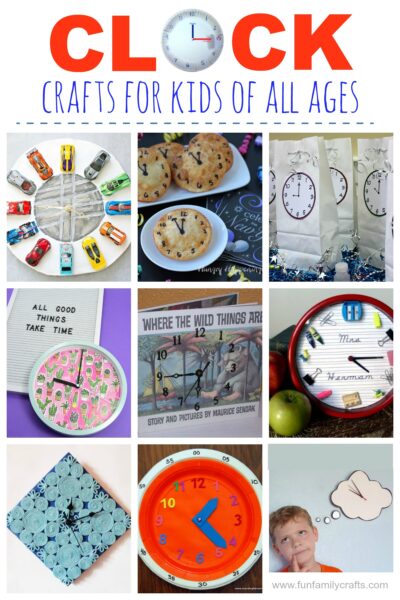 Below are 10 of our favorite clock activities and crafts. Be sure to check out all the clock crafts here.
Clock Activities & Crafts for Kids
1. Car Clock – The cars on this clay clock are detachable so your child can switch them out to play. What a fun way to introduce your child to telling time!
2. Teacher's Gift Clock – Show a special teacher how much you care with this school-themed clock. At less than $10, it's an affordable, personalized gift a teacher would love.
3. Decoupage Clock – Create a clock to perfectly match your room… and it only takes minutes! Learn how easy this decoupage project is.
4. Clock Teaching Tool – This homemade paper plate clock is a great teaching tool for kids who are ready to learn to tell time. Focus on the inner area for young children, then teach about 5-minute increments when they are ready for more.
5. Won Ton Clocks – Count down to the new year or another special occasion with these won ton clock appetizers. What a fun treat when you're focused on time!
6. Time Teller Cheat and Peek Clock -Use two paper plates to make a clock that helps kids practice telling time. Clock activities are an easy way to make learning fun.
7. Literary Clock – Turn your favorite book into an actual, working clock! This is such a neat idea for kids (and adults) of all ages.
8. Thought Cloud Clock – This whimsical thought cloud clock is so much fun! It's great for a bedroom, play room, classroom or anywhere else.
9. Cords Wall Clock – Make a beautiful wall clock by rolling and shaping nylon cords! This technique is very simple and inexpensive.
10. Countdown Goodie Bags – Count down to the new year or help the time pass more quickly on a long trip with these fun countdown goodie bags. Just fill them with dollar store goodies and prepare one for each hour.
See all the clock activities and crafts here!