Just because they're sold in the garden area doesn't mean clay pots are only for planting. There are so many fun clay pot crafts for kids to make! We've collected almost 100 creative ideas for them to choose from. You'll find ten of our favorites below.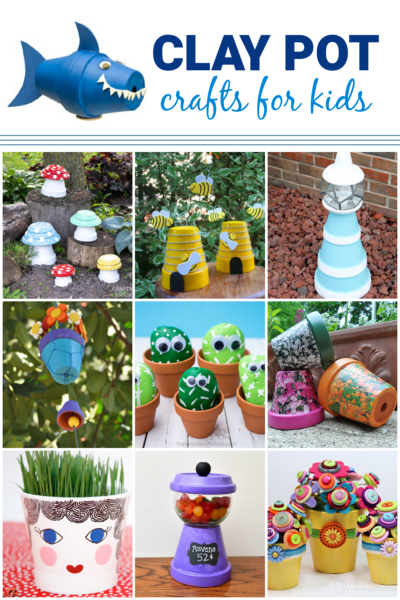 Clay Pot Crafts for Kids
1. Clay Pot Beehive – This beehive decoration couldn't be cuter! What a clever use of a clay pot.
2. Clay Pot Wind Chimes – Create beautiful wind chimes for the garden. It's made using knots – no drilling required.
3. Button Topiary – 'Plant' a button bouquet in pots. They'll look beautiful forever, with no watering needed!
4. Clay Pot Lighthouse – Turn clay pots into a darling lighthouse. It's so neat to see it shining at night!
5. Seed Packet Decoupage Clay Pots – When you do use clay pots for planting, decoupage the seed packets onto them. So clever!
6. Grass Head Pots – Decorate clay pots with faces, then watch their 'hair' grow.
7. Clay Pot Toadstools – Dress up the yard with adorable clay pot toadstools. Try different sizes of pots to find the ones that are just right for your garden.
8. Clay Pot Shark – This adorable shark is made from clay pots. Give it a try!
9. Gumball Machine Candy Holder – Turn clay pots into a neat candy holder that looks just like a gumball machine.
10. Cactus Pet Rocks – This family of cacti couldn't be cuter, plus there's no danger that you'll accidentally touch a spine.
Remember, these are just a small number of the fun clay pot crafts for kids we've gathered! Be sure to check them all out. Happy crafting!